It's the longest you've ever had to wait for ANYTHING and the wait is finally over. Well, it's almost finally over. As the autumn unveiling approaches, speculation has been mounting over what users might expect to see at upcoming web publication The Verge. To quell any remaining pre-launch angst I've taken it upon myself to present a kind of detailed wish list / prediction list mashup for your viewing pleasure…
The chance to create a new tech news site that competes with Goliath publications like Engadget, SlashGear, Gizmodo and Mashable comes only once in a blue moon. According to statistical data from Alexa (via WolframAlpha) Engadget alone receives 12 million pageviews a day from 5.7 million visitors and has an Alexa rank just above the 300 mark. It's no wonder then that BMW of North America are willing to hedge their bets on sponsoring The Verge, these websites have huge reach. SB Nation's innovative approach to content delivery and user engagement provides a unique opportunity for the team at The Verge to create a rich media experience for it's readers.
So, what do we know so far? Well, quite alot actually. SB Nation Chief Content Officer Marty Moe recently shed some light on what we should be expecting from the site. Here's the long and short of it:
1. It aims to be "the next premier brand in consumer technology media".
2. It will have a team of more than 30 reporters at launch.
3. It will cover news stories 'like Engadget'.
4. It will offer product reviews 'like CNet'.
5. It will offer long form feature stories 'like WIRED'.
6. There will be a social community element to the site 'like Crackberry or MacRumors'.
7. It will offer extensive video coverage (product reviews and interviews) and live broadcasts of major industry events.
8. They will broadcast The Verge Show "a hip version of your favorite late night television show, with interviews of major technology leaders and luminaries, in-the-field segments, comedy, and analysis and discussion with the leading tech experts, with Josh Topolsky as our host and multi-media star".
9. They plan to "create television programming that can be syndicated around the world".
10. It  will publish 40-60 stories per day.
From this list you get a pretty good idea of how things are likely to work. What I want to look at is how all of this might actually manifest itself as well as try to give a clearer picture of the way the site is likely to function and what it might look like.
If The Verge is to report on the cutting edge then it follows that the website design should be in and of itself cutting edge, which is why I think it's worth looking at the future of news on the web in order to see how that might impact the design and functionality of a website like The Verge.  
I really think that the way we interface with news media on the web is about to change in a big way and there are a number of reasons for this: The first is tablet computing. In terms of news content delivery, tablet computing has massively changed the way developers approach user interface design. Up until now news has very much been a two dimensional affair - apart from the occasional image slider or user poll, content has by and large been static. You'd arrive at the home page of a news website, follow a link to an article that caught your eye and you'd then be presented with a static flat page that maybe had a couple of images and a bit of video in it. But the the tablet computer has changed all that. It's given content depth and breadth. It has liberated content and users are now able to interface with information in far more engaging ways. A couple of years ago news experiences like this were few and far between:
The problem with these rich media experiences is that up until now they've been kept within the confines of OS specific platform code. Whilst website designs are becoming more 'optimised' for dual use on the desktop and on the tablet (mostly by adding larger buttons), rich user experiences like these have yet to really hit news on the web in a big way. But is a difference in input method reason enough for the disparity between news on the web and news on tablet devices? I don't think so. 2011 has been the year when all of the major modern browsers FireFox, Safari, Opera, Chrome and Internet Explorer now support CSS3 and HTML5 (to varying degrees of course). CSS3 and HTML 5 along with JavaScript are bridging the gap between the user experience on tablet devices and cross-platform experiences on the web, giving content providers the ability to create a consistent interface that can easily be deployed to devices in all shapes and sizes. You only have to look at what people are doing on sites like Google's Chrome Experiments to see what's possible with these languages:  
"We think JavaScript is awesome. We also think browsers are awesome. Together, they can do some beautiful, magical, crazy things. And that's why we created this website. Chrome Experiments is a showcase for creative web experiments, the vast majority of which are built with the latest open technologies, including HTML5, Canvas, SVG, and WebGL. All of them were made and submitted by talented artists and programmers from around the world."
You can take a look at the Chrome Experiments site by following this link: http://www.chromeexperiments.com/
The following CSS3 demo by Alex Giron is an experiment in which The Solar System is recreated using only HTML and CSS3. It provides the same level of richness you might expect to find within a tablet news app and brings it to the web:
A couple of years ago something like this would have only really been possible on a platforms like Adobe's Flash and Microsoft's Silverlight. But with the recent shift away from proprietary standards like these on the web (led for the most part by Apple whose iOS devices are incompatible with Flash) developers are starting to turn to these open standards in order to create rich media experiences. What's clear from all of this is that its not just about the interface, it's about the visualisation of information and data and the way that journalism is presented. I have felt for some time that the recent trend in infographics online is very much a stepping stone towards the visualisation of information we are already seeing on tablets today.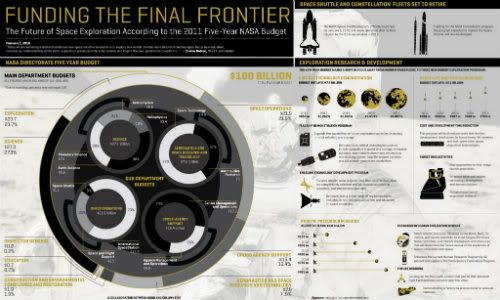 (Source: http://awesome.good.is/transparency/web/1101/nasa/flash.html)
Infographics on the web tend to be static like this 'Funding the Final Frontier' presentation but it's very easy to see how this could be transformed and incorporated as a dynamic element within a web page. Dynamic infographics, in my opinion, will form as large a role in journalism in the future as do photos and videos today and i'm not the only one who thinks this. Websites like Visual.ly think dynamic infographics form a major part of media on the web in the future and are developing powerful tools for  infographic creation:
Even though I believe that infographics will have an important role in the future, at the moment, only a few websites like GOOD and Get Satisfaction seem to be embracing them in any kind of meaningful way. So, to sum up, what do I think the future of news on the web looks like? Well, I think it looks a little something like this: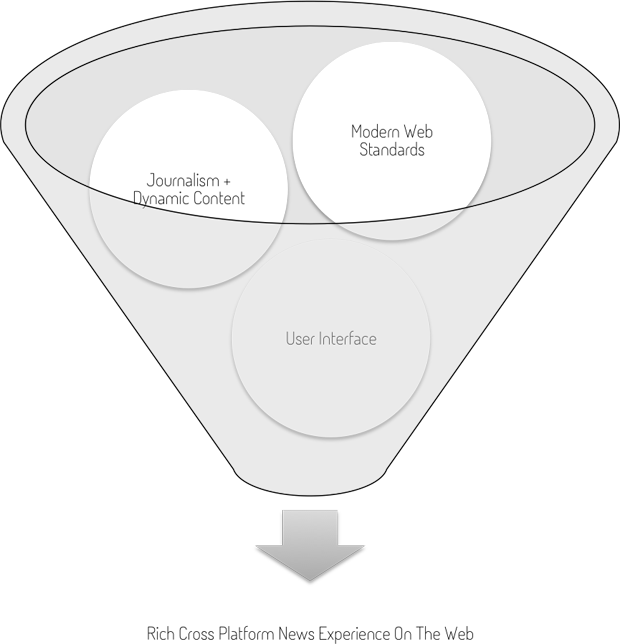 And I think it's likely that all of this will be driving the design of a news website like The Verge.
1. Blog Coture
A good point of reference in terms of predicting the development of a new website for The Verge is Engadget and there are two main reasons for this:
1. The current iteration of the Engadget website was largely the brain-child of the team who are now developing The Verge, so it follows that Engadget shares many of their aspirations.

2. Engadget's readership is similar to the readership The Verge will be targeting.
Let's start by looking at the layout. The design is a kind of hybrid. Up top there are two featured sections which highlight the most interesting and important stories. Below this is a kind of 'standard blog' layout with articles stacked one on top of the other. "Read more" is reserved only for longer articles. And then there is a sidebar on the right with additional content.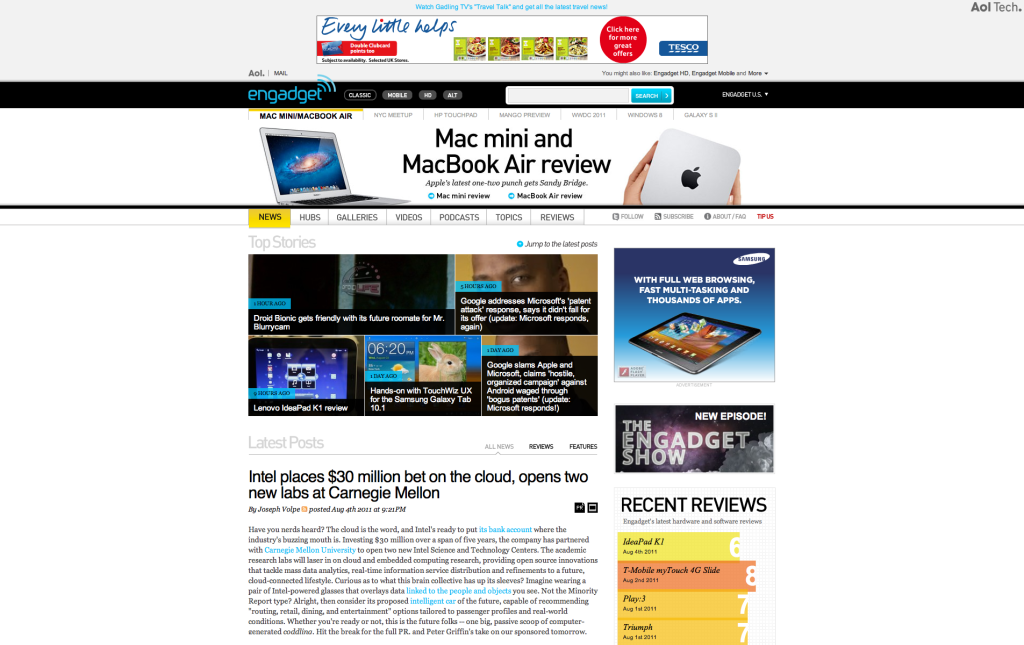 There are two major benefits with a design of this type. Firstly, the featured section allows the editor to curate and highlight the best content on the site, improving the user experience by making it easier for readers to find the more interesting articles. Secondly, the user is presented with a sizeable amount of news without having to experience clunky page reloads as they attempt to click through to find different articles. The user can easily skim and scroll through blog content, reading stories that catch their eye.
BUT and it is a big but, this design is dated. A lot has happened since Engadget relaunched on the 19th November 2009. The period which followed was without doubt, one of the most significant and dramatic times in computing during the last decade. The period gave rise to modern tablet computing. Spurred on by Apple's iPad which was first released in April 2010 and succeeded by the iPad 2 earlier this year, a new market has erupted with a slew of tablet devices running on a variety of platforms. What we need now is a design that is more optimised for the tablet as well. It's hard to ignore all of that white space to the left and right of the page!
I predict… that The Verge is likely to opt for a grid based design similar to that used by Atlason, Craig&Carl and the New York Times Skimmer where the content adapts to screen size. In a similar way to Engadget the design might feature curated tiles at the top of the page with the remaining tiles below being used for recent posts. The use of a grid based design is tablet friendly and the adaptive nature of content provides a consistent user experience accross mobile, tablet and desktop displays, meaning one scalable website rather than different designs for different devices. Unlike the Engadget website all content will be kept above the fold*.
http://www.nytimes.com/skimmer/
*The 'fold' - the imaginary line on a screen that designates what content is visible before a viewer needs to scroll down. 
2. Story Stream
I predict… that StoryStream will be coming to The Verge in some shape or form.
Story stream turns a group of closely related articles into a mini-blog or stream. Here's a quote by Erick Schonfeld who talked about it in relation to SB Nation's relaunch:
Sports news is like financial (and tech) news in that it attracts sports junkies who like to constantly refresh their favorite sports site to see the latest scores or updates about their favorite teams and players. Why not just stream all of those stories to them so that they never leave? That is sort of the idea behind SBNation's StoryStream – Erick Schonfeld, TechCrunch
You can have a quick look at StoryStream in action here:
It's possible that StoryStream will be integral to the way in which articles are viewed at The Verge.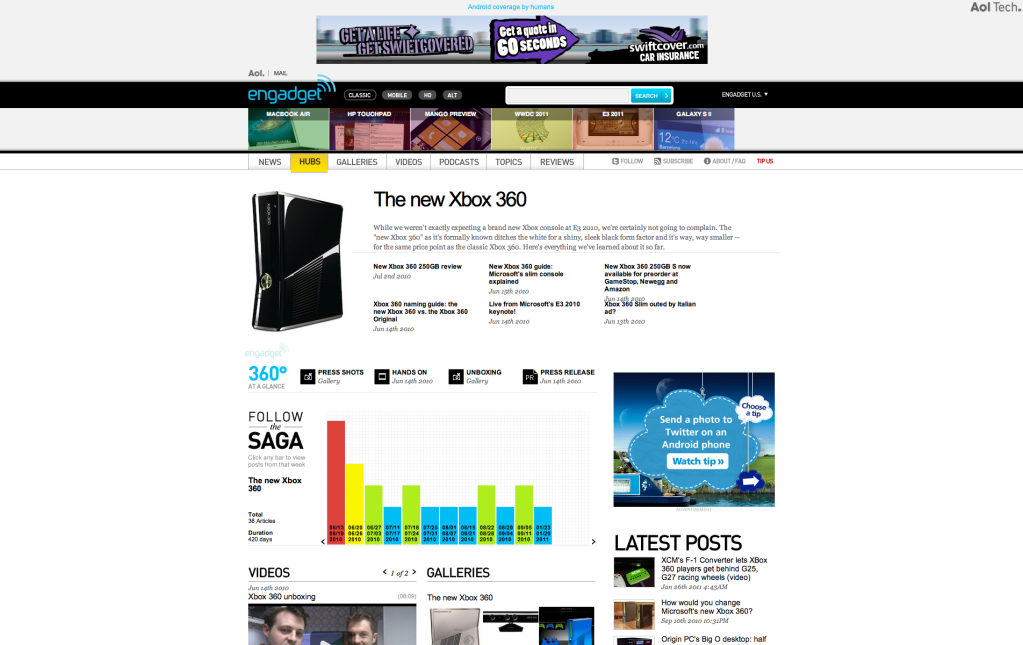 Engadget has its own kind of StoryStream implementation. "Hubs" are groups of related articles. I think hubs are a little less intuitive than StoryStream as they are huddled away on a separate part of the site away from the main blog which is a shame because it actually works quite well. The story stream concept is a good one but I think the implementation can be improved upon. Here's an idea for a more compelling StoryStream (this bit's more of a wish than a prediction):
A web widget for visualizing temporal data, developed by MIT.
http://www.simile-widgets.org/timeline/
This is an extremely compelling method for displaying information across a period of time. In an implementation on The Verge the timeline might collapse to give focus to the main article displayed and then expand when the user runs over it with their mouse.
3. The Living Article
I predict… pages will update themselves.
The living breathing article is in many ways connected to the idea of StoryStream. News is constantly incoming and updating. What we need are live web pages where the user is alerted as new information is added. The best implementation of the 'living' web page is twitter. Twitter alerts you when new tweets are tweeted. You can choose to view the new tweets and they are displayed within the same page giving a neat, tidy live update. Users don't have to refresh the whole page, they can leave it open and return to it at a later time. When you click a tweet that interests you it loads within a content panel on the right hand side and the user can still see all of the most recent activity on the left. Twitter feels alive. Perhaps a way to incorporate this into the timeline concept for StoryStream is to have the notification appear within the timeline and then the user clicks on the notification to read the updated article and voila, you have a live, visual representation of StoryStream (again more of a wish than a prediction).    
4. 

FanPosts and FanShots
I predict… FanPosts and FanShots will be coming to The Verge.
We know The Verge will be running the SB Nation platform but what is the SB Nation platform you ask? Well from a user perspective there are only a couple of things you need to know. We'll look at an SB Nation blog as an example. I've randomly chosen tennis blog The Daily Forehand. On the homepage you have the standard SB Nation blog design.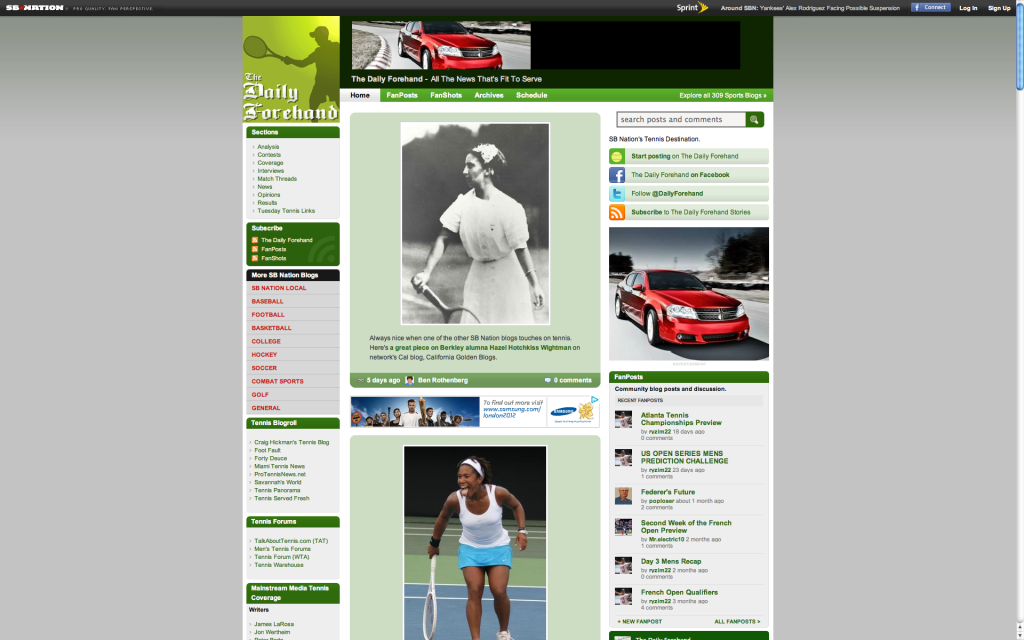 Once logged in you'll notice a box appear on the right hand side of the page titled "The Daily Forehand" with a list of user options. Here you have the option to create a new 'FanPost 'or 'FanShot'.
Clicking 'create a new FanPost' will bring up the following screen. What are FanPosts? Well, they're kind of like microblogs. On SB Nation blogs FanPosts are user created blogposts which go in the FanPost section of the site. The collection of user generated posts acts as a fan website within the main website. Fans can actually post articles on the site and other users can comment on those articles in the same way they might comment on articles in the main site.
Once a user has written an article it will appear in the FanPost section of the site. There are two main views here - list view…
…and full view…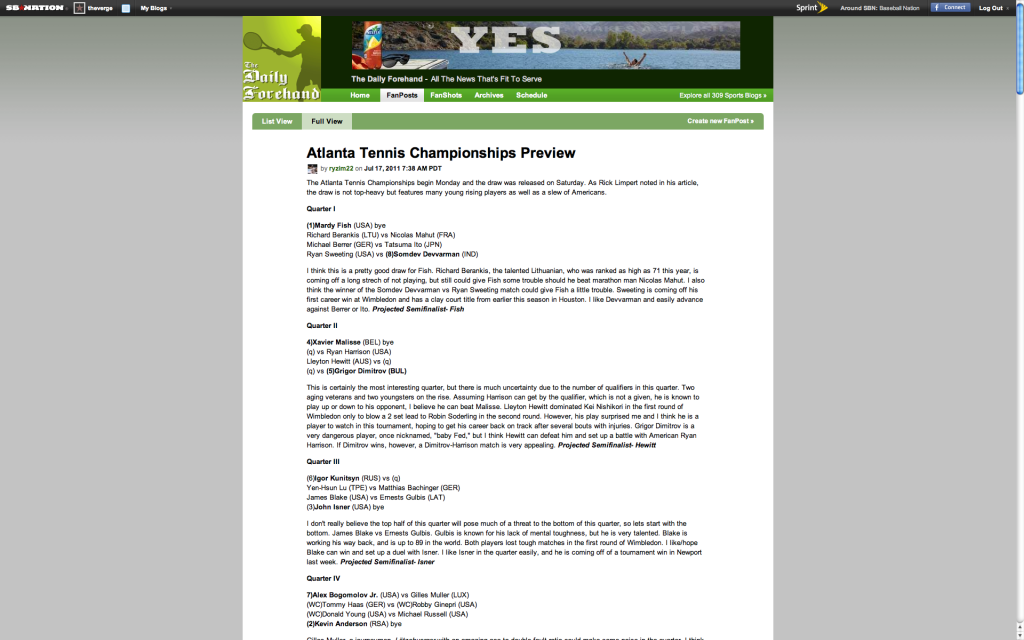 If you were to think of fanposts like Wordpress posts, the FanShots portion of the site is a little bit like a Twitter/Tumblr hybrid where users can post specific media content i.e. images, videos, quotes, links, lists and chat.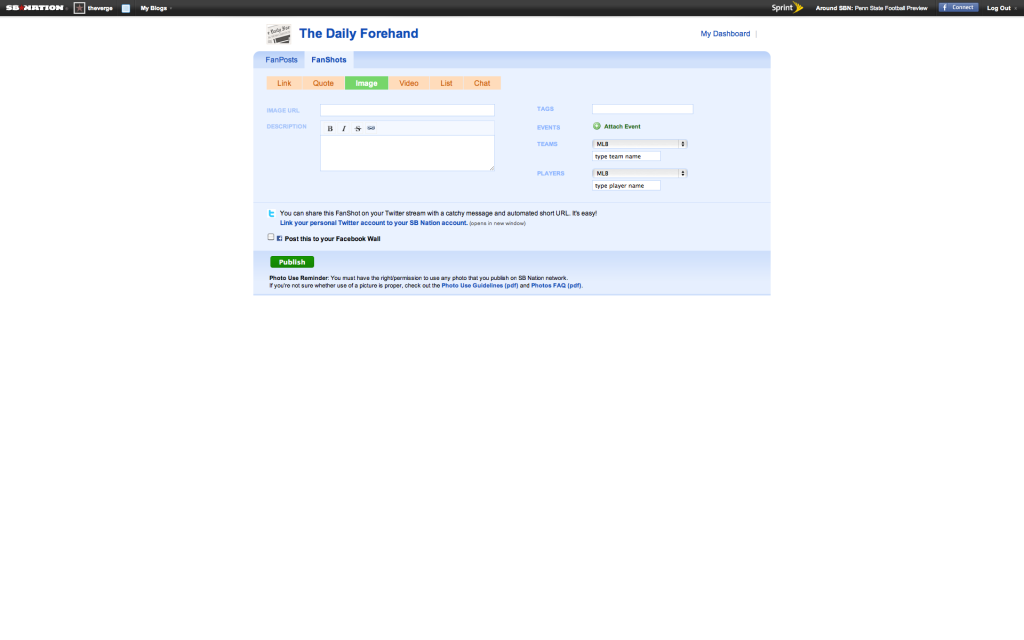 Publsihed fanshots are viewable in the fanshot portion of the site…
And that's FanShots and FanPosts which I'm guessing will be coming to a Verge near you sometime soon.
6. 

Live Q&A's
I predict… lots of live Q&A's.
One thing you may or may not have spotted was a live Q&A session hosted by Josh which accompanied his review of the short-lived HP Touchpad which you can see here. It looked a little something like this: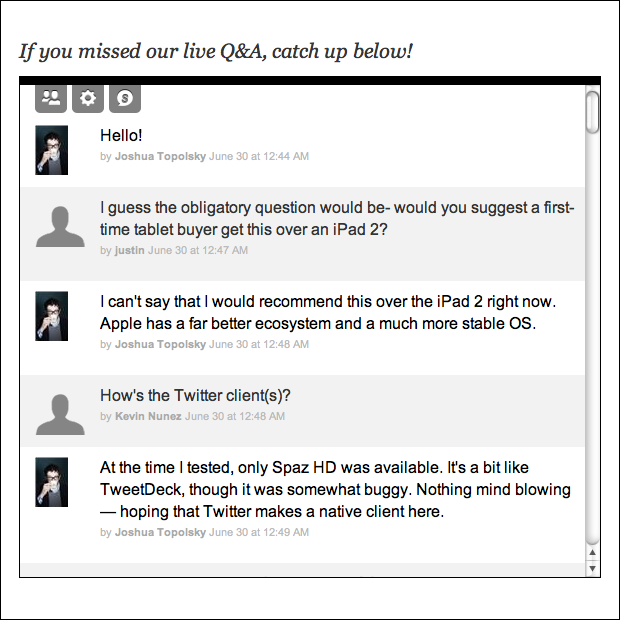 Now these I like. Engaging readers in discussion after a product review. It's powered by ScribbleLive which you can read about here.
7. 

Merchandise
I predict… lots of merchandise goodness.
While I don't think a 'V' branded tablet will be gracing the shores of The Verge anytime soon I do think they'll stock up on some basic tees and mugs. People have been talking about merch alot on disqus. No doubt there's a demand for it:
ok I'm asking for one thing here, and that thing is allowing us to give you cash money. TEE SHIRTS PLZ. Emily Porta
Am I the only one thinking how awesome that logo would look on a T-Shirt? Callum Newton
It's like a superhero logo. They should sell tshirts with it…. hey…. can I get a cut of that?  JayBeeZee
We need T-shirts! Mackoy  
Question is how will this be organised? Short answer - I think it's likely they'll have a dedicated shop on the site for this.
8. 

Apps
I predict… apps.
Engadget serves as a great indicator of what's to come at The Verge. Apps. Will. Come. But in my opinion, not at launch. They may come sometime afterwards once the readership base has grown a little.
9. 

Podcast

There isn't really any need to predict the podcast as we already know it's coming but I thought it would be worth mulling over a few details. The This is My Next podcast has done quite well and has been listed among the top 100 podcasts in the US charts over the last few months at one point Making it to number 3 in the US podcast chart on April 5th (see here). Though the initial intrigue has waned and the podcast has dropped off the top 100 chart in recent weeks it's still pretty amazing as the podcast has had very little fanfare.
Chart Progress Graph
They don't need to do anything to it either. It already has a winning formulae. It's fine as it is. What's unclear though is what it's going to be called. To me 'The Verge Podcast' sounds a little clunky, it doesn't quite roll off the tongue like 'This Is My Next Podcast' or even 'The Engadget Podcast'. 'The Verge Cast' maybe or 'V Cast'?
One big change that we know is coming is that the podcast will now be taped so they'll be pumping out live video feeds each week. Something I think many people will agree is a welcome addition to the format.
10. 

The Verge Show
I predict… The Verge Show!
Topolsky brought The Engadget Show to Engadget and he'll do it again with The Verge. One of the unsunng heroes of The Engadget Show was Producer Chad Mumm who put it together. You may recall the announcement of his engadgement with The Verge when Josh wrote:
Chad is the man that took my initial, crazy idea for what that show could be and made it into reality — even when people around us said that it would cost three times as much and take three times as long. He's also responsible for moving the video production and style at Engadget to the level right after the next level. The next next level. He's an incredibly resourceful, funny, and focused person, and I could not be happier to have him on board with us for our new venture. This Is My Next
So yeah, expect a show. I'm not making any big bets on the show's format though I think it will be similar to when Josh and the gang were at Engadget i.e.
1. An interview with a key figure within tech.

2. Live demos.

3. A roundtable with Josh, Paul, Nilay and guests.

4. A featured pre-recorded segment

5. Giveaways

6. A musical finale (not the Muppets kind of musical, the other type)
This format seemed to work pretty well. My only hope is that they make the show live.
Another big question - what will it be called? Again, The Verge Show doesn't quite seem to roll off the tongue. Suggestions… how about picking up on The Verge logo badge and just calling the show 'V' or 'V Show'? "This week on 'V' guests include…", or 'The Verge Live' or maybe even 'The Verge with Joshua Topolsky' in the same vein as 'Late Night with Jimmy Fallon'? What do you think?
Of course, with a new show comes a new theme tune and logo stinger. We recently had a taster of what the logo stinger might look like in a couple of reviews. You can take a look here:
As for the theme tune, I'll admit I was a big fan of the old Engadget Show theme tune a modified version of Bitshifter's "Hexadecimal Genome" (full version below): I also stumbled across this version which I thought sounded interesting:
And here's the retired Engadget Show logo stinger which was brought in under Josh's tenure of the show created by Julien Nantiec (more of his awesome work can be seen here): Someone also came up with a concept for a new video stinger: Another idea we thought was quite cool style-wise and music-wise:
12. Wrap up
There were a couple of things that I failed to mention in the main body of this post (more wish list items really) so before I wrap up here goes:
1. I'd like to see the heavy use of infographics.

2. I'd like to see them do something interesting with This Is My Next.

3. I'd like to see some quirky in the field segments like these:
So, there you go. Admittedly, it's a bit long winded but I've tried to cover as much ground as I could. It will be interesting to compare these predictions with the final launch product. Until then, we can only speculate!
By A Fan of The Verge
Top of Page